Go Chuck Yourself Challenge
We dare you to finish the "GO CHUCK YOURSELF BURGER & ANY SPECIALTY MILKSHAKE OF YOUR CHOICE" in 6 minutes and we will put your picture on our Holy Chuck "Wall of Fame", give you an exclusive contest t-shirt, plus huge bragging rights! If you can beat the BEST TIME, we will PAY FOR YOUR MEAL!
If you lose, your picture will go on our "Wall of Shame" because you just CHUCKED YOURSELF!
Note: The Challenge can not be attempted between the hours
of 11:00 am to 2:30 pm Monday to Friday.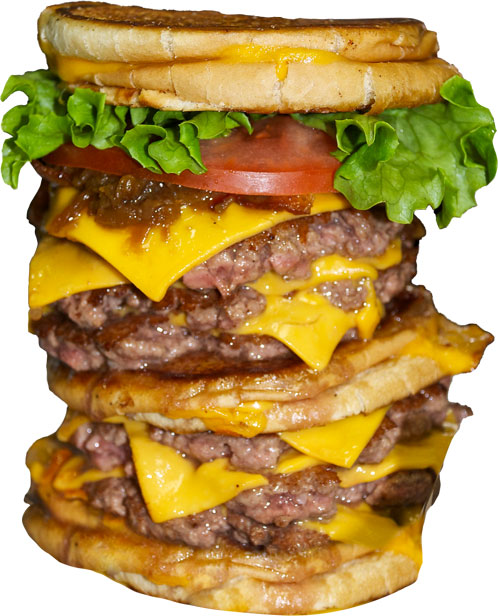 Definitely worth the visit! The burger was really good and cooked the way I liked it. Also had a poutine, the portion size was amazing and tasted great. Feta fries were okay but became overwhelming near the end.On the pricey side for Burger and fries but definitely worth it. Can't wait to go again!
Carlivia Braithwaite
I tried double cheese burger and milkshake. Burgers was so yummy and fresh! Perfect cooked. Milkshake also awesome. The have Halal meat option.
MD RAYHANUL ISLAM (Rayhan Shumo)
One of my all-time favorite burger joints in the GTA. Holy Chuck is the place to go when you want to just pig out on a delicious greasy burger. They have a variety of options ranging from a simple cheeseburger to the top notch foie gras burger with black truffle shavings. The staff are friendly and the place has a cozy diner vibe to it. The food is absolutely delicious and prepared right every time. Definitely recommend to any foodie or burger fanatic.
Habib